This article have video guide about magento shopping cart price rules and example of their usage.
---
What is the Shopping Cart Price Rules?
Magento has Two types of Promotions . There are Catalog Price rules and Shopping Cart Price rules. The first one can apply discount for product at the catalog listing or product page based on conditions.  The second one ( shopping cart price rules) can apply discount for shopping card when shopping cart rule's conditions.
How to make new Shopping Cart Price Rule?
To create new shopping cart price rule you need to open admin panel and navigate to Promotions -> Shopping Cart Price Rules and click button create rule.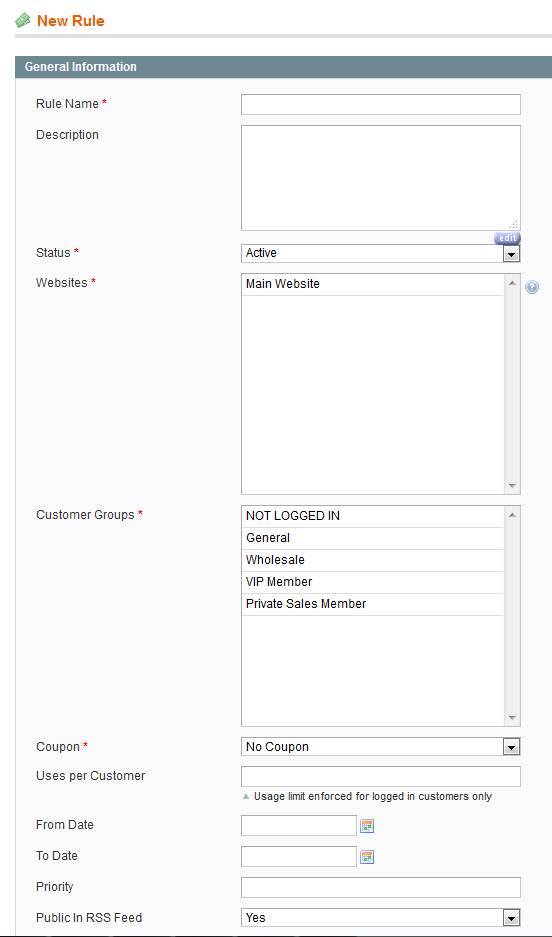 When you create new rule you have set of Generals fields to fill.
Rule Name - Its name or the new Rule.
Rule Description - Description of rule
Status - Status of rule it can be Active or Inactive
Websites - Here you can select websites for which rule will be applied to.
Customer Groups - In this field you can select customer groups which can use shopping cart promotional rule.
Coupon - If set to Specific Coupon then rule will be applied only when coupon code set. If it set to "No" then rule will be automatically applied once rule's conditions are met.
Uses per Customer - Here you can set how many times rule will be used for customers. This way you can restrict customer to use same rule only once, twice or different amount of times.
From Date & To Date - You can specify dates for which rule will be valid.
Priority - In case you have several shopping cart rules you can set priority of them.
Publish in RSS Feed - Here you can select if this rule will be published in RSS feed
Conditions tab
- allows you to set conditions for the rule. Only when this conditions are met shopping cart rule will be applied.
Actions tab
- Here you can select Actions for rule. After the first block there are section where you can select for which products discount will be applied.
In the first section Apply To field will declare discount type. It can be:
Percent of product price discount
- Discount will be applied to matching product as based on percentage of the product price
Fixed amount discount
- Discount will be applied as fixed dollar amount for matching items.
Fixed amount discount for whole cart
- Discount will be applied for whole cart not only for cart items.
Buy X get Y free (discount amount is Y)
- the rule for Buy X get Y Free. If it select Discount field used for Y and Discount Qty Step (Buy X) field used as X . It works i nacse you need to give second type of the same product of free. Also in the video one more dropdown field:
Add Gift Product
- This is from magento free gift by coupon code extension which you can find
HERE
. The field
Apply to Shipping Amount
set if discount should be applied for the shipping amount. The
Free Shipping field
can be set as No or Whole shipment ( I this case free shipping will be applied for whole order) or For Matching items only ( In this case free shipping will be applied only for items matching section below)
Stop Further Rules Processing
- If you have few shipping cart price rules and its set to Yes other ones will not be applied to this customer's shopping cart.
Labels tab
- allows you to set labels for discount for default and store views.
Video of Shipping Cart Price Rules